Meet Dr Mini who is striving to make the world a more harmonious place for the animals to co-exist with us
March 4, 2022, 9 p.m.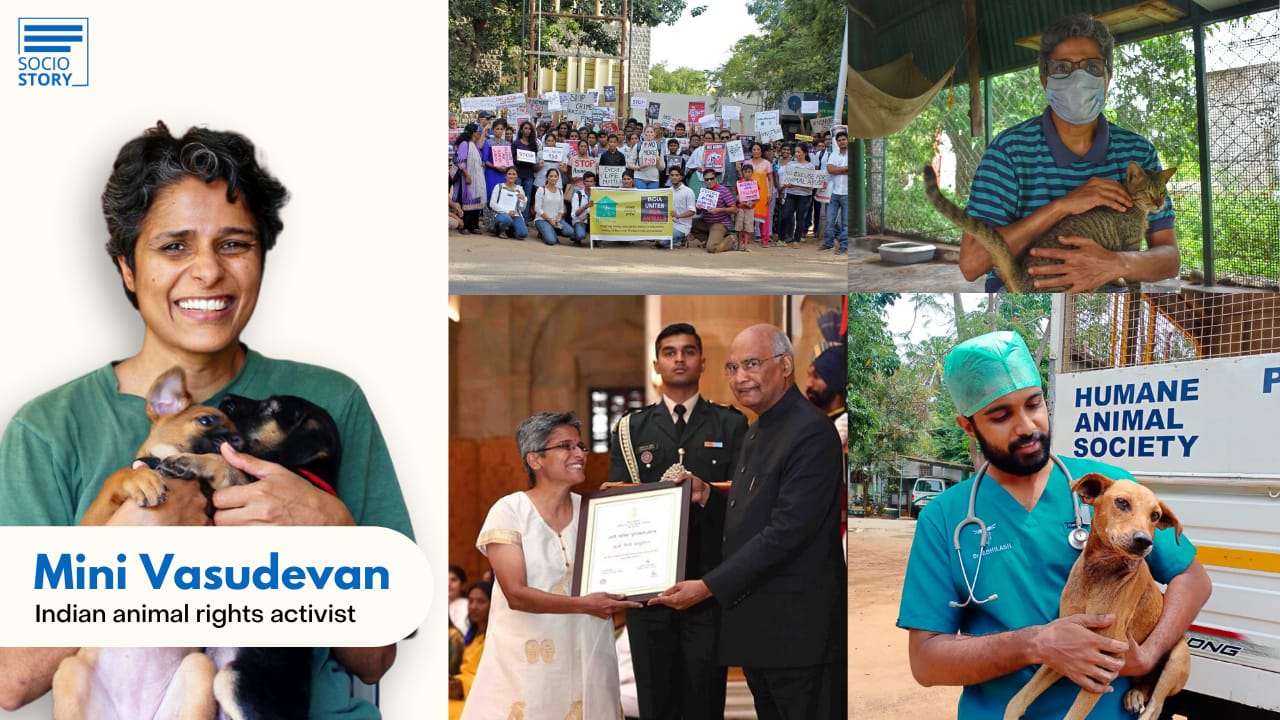 By:Reshma Jain
A recipient of the Nari Shakti Puraskar, Dr Mini Vasudevan was brought up in a household without pets, but had always felt a deep connection to animals since her early childhood. When she was 11-years old, she turned vegetarian after witnessing a chicken being severed while she was playing with her cousins in a farm.
The pivotal moment was when she witnessed dogs being treated inhumanely by being confined in inhabitable and filthy kennels, while she was volunteering at the place where Coimbatore Municipal Corporation (CMC) was performing their Animal Birth Control (ABC) program. The impact that Dr Mini's work has made is huge and we bring to you the interesting journey of Dr Mini and her work in the field of animal welfare.
A telecommunications engineer by profession who has served over 27 years in the corporate telecommunications sector, Dr Mini is a passionate animal activist who felt connected to animals, right from childhood. Mini strongly believes that making a difference is as important as making a living and considers her work with animals extremely gratifying. She has been involved with animal welfare activities for several years both in India and abroad.
While she loved animals all her life, it was only when she was in the US that she learnt about the nuances around animal welfare. It was also very sad to see surrendered pet animals being put down if they could not be rehabilitated within a prescribed period, she reminisced. This led her to establish Humane Animal Society (HAS) in 2006 which has been very actively involved in the Animal Birth Control (ABC) / Anti Rabies Vaccinations (ARV) program in Coimbatore through MoU with the corporation among other activities like adoptions, rescues, rehabilitation and treatments of stray and abandoned animals.
Recalling an incident which gave a spark in establishing HAS, 57-year-old Dr Mini shared, "Distressed by the living conditions of the animals in the CMC, I immediately took this up with Ms. Maneka Gandhi, an animal welfare activist, via email with the supporting evidence of CMC's practices. Ms. Gandhi reverted, asking me to stop complaining and start acting on it. This haunted me for days together. Meanwhile, Gandhi reprimanded CMC instructing them to cooperate with my proposal to handle the program in a humane and structured manner. In November 2006, a Memorandum of Understanding (MoU) was signed between HAS and CMC. Humane Animal Society has, ever since, handled the ABC/ARV program on behalf of the corporation in the facility provided by them."
Hence, HAS was formed with an aim to approach animal welfare with compassion and respect, in addition to just mitigating the suffering of animals that did not have anyone to care for. Sharing further details on the impact that has been created, Dr Mini said, "We have positively impacted over 65,000 animals including dogs, cats, ponies, and cows. We have also helped over 5,000 animals in finding a secure home. Our sanctuary at Valukkuparai is home for close to 100 animals that couldn't be adopted or rehabilitated back into their territory."
"We have also worked towards educating children, the public, and youngsters on spreading awareness about animal rights, compassion, and the importance of respecting and adopting Indian dogs and cats as companion pets rather than encouraging buying and breeding," added Dr Mini who is a recognized inventor with several patents to her credit in the field of Wireless Telecommunication Engineering.
Today, people are coming forward to adopt female dogs and Indian breeds that are robust, need very low maintenance, but are highly adaptable and equally loving. The pet parents are also coming forward to have their pets undergo birth control surgeries upon learning the inhumane conditions in which commercial exploitation of these sentient beings takes place through illegal breeding and selling. "There is no limit to the love animals can give humans and I say this from my experience of running a shelter home," quotes Dr Mini who has been a part of the governing board of Federation of Indian Animal Protection Organizations (FIAPO).
As far as challenges go, the increasing human-animal conflict in a materialistic and human-centric world with human population exploding beyond control is perhaps the most difficult one. Disturbing trends of abuse and exploitation are becoming the norm and people getting conditioned to such trends makes it difficult and challenging when we want to uphold justice to the voiceless and change the way animals are treated as sheer commodities without valuing their sentience.
Stating that Education and Awareness is the only solution to this, Dr Mini said that apart from what they do at HAS, their future plan is to discourage the increasing number of protection homes through creating awareness to the public about animal rights and eliminating exploitation to the extent possible. With every use, comes abuse and if one cares and shows empathy towards all sentient creatures that we cohabit on this planet, there will be less need for protection homes.
The youth have the power to change attitudes and mind-sets. They are the torchbearers who can change the archaic outlook that still prevails in the major part of our country with respect to animals and their rights.
World economies have been built on exploitation and that has been the downfall of humanity. We have never been so disconnected from the world we live in with the billions of species that we cohabit with. The harmful impact of factory farming and animal agriculture has led to global warming to alarming levels endangering the future of the planet and the lives it sustains.
We will need to be aware of the delicate balance that nature has in sustaining life on this planet and any development must have the goals aligned to nature and ensure that the delicate balance is not disturbed to the extent possible for sustainability.
In her concluding remarks, Dr Mini said, "Making conscious life-style choices that result in happier and healthier lives should be the goal and, in that respect, reducing, recycling and reusing must be given a lot of importance."