Breast Cancer and the need to spread its awareness
Oct. 7, 2022, 4:10 p.m.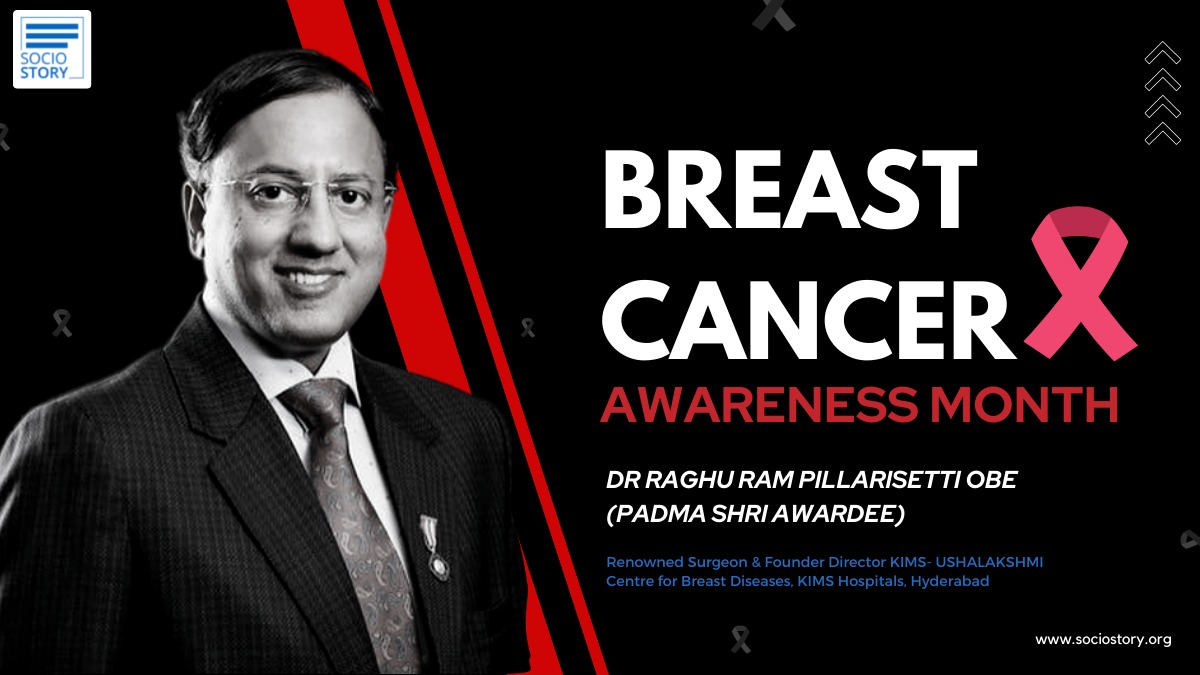 By: Reshma Jain
The month of October marks National Breast Cancer Awareness Month and Socio Story throws light on some important insights by renowned experts which each of us need to know. Padma Shri and Dr B C Roy awardee Dr Raghu Ram Pillarisetti OBE shares his views on Breast cancer, its diagnosis and treatment.
How common is breast cancer?
With some 1,65,000 new cases being diagnosed every year, the incidence of breast cancer has overtaken cervical cancer to become the most common cancer affecting women in India.
How is breast cancer diagnosed?
After evaluation by a process of Triple Assessment, which includes Clinical breast examination, Breast imaging (Mammogram, i.e., X-ray of the breasts & Breast Ultrasound scan) & ultrasound guided needle biopsy of the lump, a definitive diagnosis of breast cancer can be obtained in most instances.
What is the difference between Stage & grade of cancer?
Diagnosis of Breast cancer does not automatically mean that it has or will spread; just that it has the potential to spread. The potential for cancer to spread is referred to as GRADE of cancer. Breast cancer is graded 1, 2 or 3. In general a lower grade (Grade 1) indicates a slowly growing cancer while a higher Grade (Grade 3) indicates a faster-growing cancer. The extent of spread of cancer is known as STAGE of the disease.
Where can breast cancer spread to?
Depending on the size, grade & lymph node involvement, staging tests are done to assess if cancer has spread. Cancer can potentially spread to four areas – i.e. liver, lungs, brain and bones. Staging tests aim to assess if the cancer has spread to the areas mentioned above.
What are the aims of treating breast cancer?
1. To remove cancerous area from the breast and any affected lymph nodes in the arm pit
2. Destroy any cancerous cells that might have already spread from the breast into the body through blood steam or the lymphatic system.
What are the modalities available for treating breast cancer?
There are essentially five modalities to treat breast cancer;
1. Surgery 2. Chemotherapy 3. Radiotherapy 4. Hormone therapy 5. Targeted Therapy
The treatment is always individualised and one size does not fit all. A Multidisciplinary team comprising the treating Surgeon, Radiologist, Pathologist, Medical & Radiation Oncologist should ideally decide upon the treatment regimen best suited for the patient after adequate counselling.
Why is counselling important in breast cancer treatment?
Counselling is a very important component of breast cancer care as patients and their relatives are better informed, better prepared and more importantly, feel more in control at every stage of their treatment.
Counselling involves discussion about the diagnosis and various treatment options by the specialist in a sensitive and supportive environment. Equally, adequate psychological and emotional support is given during the counselling sessions that takes care of individual needs of patients and their families affected with breast cancer.
What are the possible questions that one might want to ask the specialist?
One should feel free to ask questions to the specialist relating to various treatment options. They might include:
Why is this the best treatment for me?
Are there any options?
What are the possible side effects?
Are there any short-term & long-term complications?
How will these treatments impact on everyday life?
It is the duty of the specialist to clarify questions posed in an unhurried manner. Ideally, trained breast care counsellors should be available to reinforce the points highlighted by the specialist in simple easy to understand language.
While there is a lot more to discuss on Breast cancer, we would like to mention that over the past 15 years, Dr Raghu Ram Pillarisetti served as a "Living Bridge" between the UK and India replicating the best of British practices in an earnest endeavour to improve the delivery of Breast health care in a country that he was born and raised. Dr Pillarisetti had conceived, designed & established KIMS-USHALAKSHMI Centre for Breast Diseases, which is South Asia's First free standing comprehensive Breast Health Centre at KIMS Hospitals in Hyderabad.
He was recognized in Queen Elizabeth II's 2021 New Year's Honours list and achieved the rare distinction of becoming one of the youngest Surgeons of Indian origin in over 100 years to be honoured by Her Majesty, The Queen with an OBE – Officer of the Most Excellent Order of the British Empire.